The Norwegian Heart and Lung Association wants parents to be aware of the dangers of dustmites in their children's bedrooms and is using adverts showing teddy bears dressed as Hitler, Gaddafi and Kim Jong-il to get their message across.
Photos: LHL Astm aog allergi/Kitchen
Children's soft toys are a natural hiding place for dustmites and other allergens which can be a major trigger for asthma and eczema. And because little ones spend an awful lot of hours asleep with their bedtime friends pressed to their nose and mouth, advertising copywriter Bendik Romstad said "By focusing on children's bedrooms we want to stop the problem of asthma and allergies before it even starts to develop. This campaign addresses how dangerous stuffed animals can be if they are not washed regularly." She added, "For children, stuffed animals can be just as dangerous as the world´s worst despots."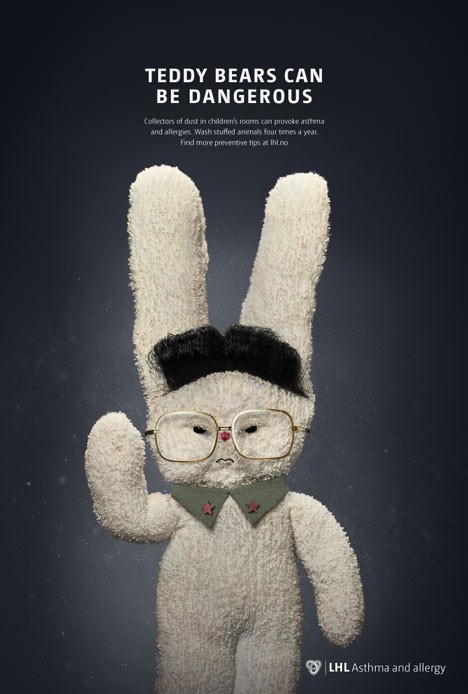 The number of children with asthma and allergies in Norway has increased four-fold since the 1970s and today more than 20 percent of children are affected. The Norwegian Heart and Lung Association encourages parents to wash their children's teddy bears four times per year and to always wash children's bedding at 60C in order to reduce the risk of asthma and allergies.