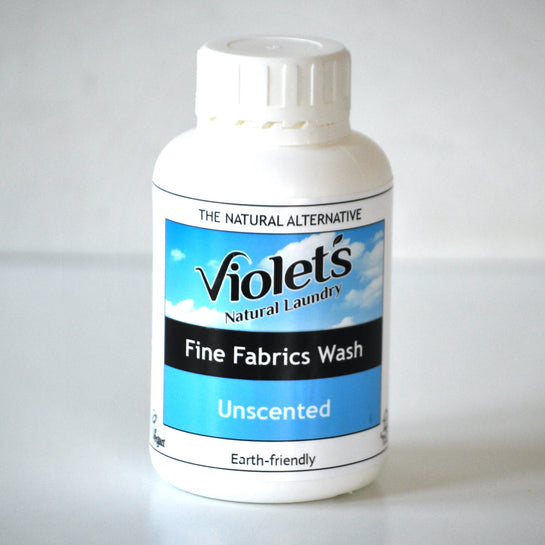 An all-natural, gentle yet effective laundry liquid for fine and delicate fabrics.
Use this pure, unscented laundry liquid for hand-washing pashmina, silk, wool and other delicate fabrics. Made with natural ingredients to keep fibres soft.
Violet's Unscented Delicates Laundry Liquid for hand washing is a made with all-natural, biodegradable plant and mineral ingredients. It's the right choice for anyone with sensitive skin or allergies, chemical or fragrance sensitivities.
Violet's Unscented Delicates Laundry Liquid has NO Enzymes, NO Optical Brighteners, NO Phosphates, NO Chemical Scents, NO synthetics or petrochemicals. Vegan approved. Not tested on animals.
Creator Judith Mathias originally made Violet's laundry products to help her granddaughter's eczema and named it after her North Country grandma, from whom she inherited her traditional housekeeping skills.
Today, her team continue to use only the very best Botanicals and Natural Minerals to create laundry liquid and powder that really do work the natural way, without any harsh chemicals.
traditionally made
rinses thoroughly leaving no residue
fabric is softer, brighter and really clean
biodegradable, safe for septic tanks
made in the north of England
Ingredients: Water, Sodium sesquicarbonate, Sodium carbonate, Citric acid, Aloe vera, Xanthum gum.
Please note we are not able to ship this product overseas.