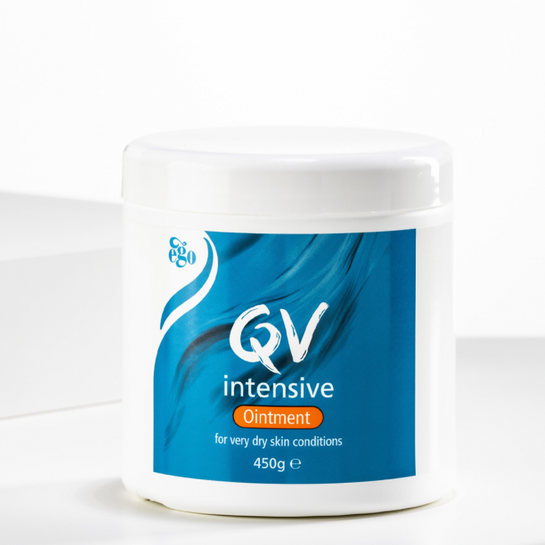 A rich, soothing balm for extra dry skin and problem areas such as knees and elbows. Suitable for dry skin conditions such as eczema, dermatitis, psoriasis, xerosis and ichthyosis. Supplied in a 450g tub.
Won't sting when applied to cracked and inflamed skin.
Named QV after the Queen Victoria Hospital in Melbourne and frequently prescribed by dermatologists and GPs, QV Intensive Ointment is highly effective for problem dry skin patches. Apply liberally to the face and body as required and massage in gently. Use after bathing and showering.
A concentrated ointment with a rich texture
For chronically dry skin
Moisturises and hydrates the skin
A highly emollient balm to lubricate skin cells and close skin cracks

Promotes healing
Low irritant formula suitable for dry, sore, itchy skin and eczema
Protects against water loss by sealing in the skin's own natural moisture
Free from common irritants including fragrance, colour, lanolin, propylene glycol and Sodium Lauryl Sulphate (SLS)
Preservative and water free
Apply as often as required to help heal problem areas such as elbows and knees
pH balanced
Vegan friendly
Dermatologically tested
Available in a 450g tub
Ingredients: Light Liquid Paraffin (Paraffin Liquidum), Soft White Paraffin (petrolatum), Isopropyl myristate, polyethylene, cetearyl alcohol, dimethicone, silica. 
Tester's Tip: This is a thick, rich ointment which is terrific for the driest of skins. Absolutely brilliant for knees, elbows, heels. Also fabulous for hands under cotton gloves at night. This ointment goes a very long way too.
NB. People using large quantities of paraffin-based products, such as QV Intensive Ointment, should regularly change clothing or bedding impregnated with the product and keep away from naked flames. Store below 300C.For external use only. Avoid eyes. Do not use on wounds. Do not use if sensitive to any ingredients. Discontinue use if irritation occurs. Avoid soap on affected areas to prevent irritation. Keep out of reach of children. Store Below 30°C.