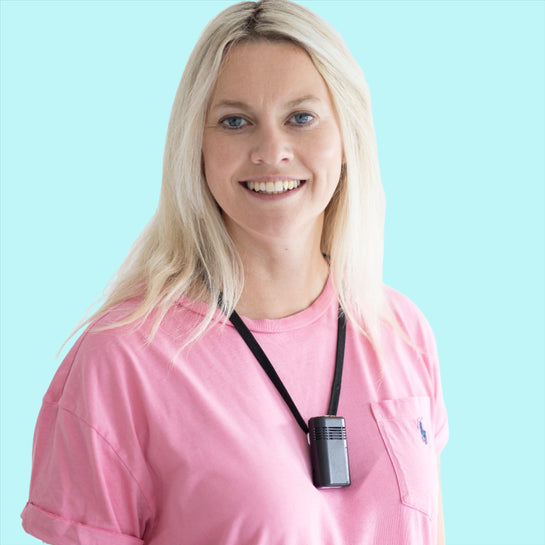 Thank you so much for my AirSupply I have suffered from MCS for years, gradually getting worse. This year the first of many I have actually enjoyed writing my Christmas cards and wrapping presents. It helps with perfume and many others chemicals. I must add it's not a cure but works better than I would have dreamed of. I feel I have a life instead of being a prisoner locked away. I am so much happier it is worth every penny. Mrs Irene Hacker
This Personal Air Purifier provides proven protection against viruses including Covid-19, SARS, H1N1 (Swine Flu), chemicals, fumes, odours and particles
This is a tiny, lightweight air purifier worn either round the neck or clipped to a shirt pocket. It uses corona discharge technology to create an electrostatic shield that repels, incinerates or oxidises airborne particulates before they can enter the mouth, nose and eyes. The corona discharge also sends a fresh ionic breeze of purified air into the breathing zone of the wearer.
This device has been tested and proven by world authorities in health-related aerosol studies to substantially reduce the risk of inhaling airborne viruses, bacteria, and toxic particles ranging from 3.0 down to 0.04 microns in size.

This size range encompasses most known allergens, irritants, bacteria and viruses such as influenza, Covid-19, the common cold, SARS and H1N1 (Swine Flu).  Also incinerated are dust, animal dander, mould spores, pollen, smoke and chemical irritants.
Tiny, lightweight and silent in operation
no fan, no motor, no filter
maintenance free
includes breakaway neckstrap for safety and one C123 disposable (safe, non-rechargeable) lithium ion battery (lasts 30 hrs)
If you would prefer a personal air purifier which is rechargeable take a look at The Air Supply AS 300R
How different airborne contaminants are destroyed by AirSupply®:
Viruses and Bacterial Germs: incinerated by the corona discharge
Dust and Dustmites: carbonised and vaporised by incineration
Mould spores and pollen: carbonised and vaporised by incineration
Animal dander: carbonised and vaporised by incineration
Odours: oxidised into deodorised compounds
Chemical Contaminants: oxidised into benign chemicals
Smoke: solids are carbonised and gasses oxidised
AirSupply® is ideal for pet allergy, asthma, hay fever and COPD and is highly recommended for sensitivity to perfumes, cleaning chemicals and VOC's, Sick Building Syndrome and to avoid problems that may result from breathing the recirculated air in aircraft.
Scientifically tested by leading aerosol scientists at the University of Cincinnati's Department of Environmental Health and peer-reviewed results published in leading scientific journals
NB. Customers with Pacemaker devices or Implanted Cardiac Defibrillators should check with their doctor before use.
Tester's comment

: I can wear this all day long to protect myself from airborne pollen and viruses and I absolutely forget I'm wearing it. It just silently does its job, hour after hour. I love it!