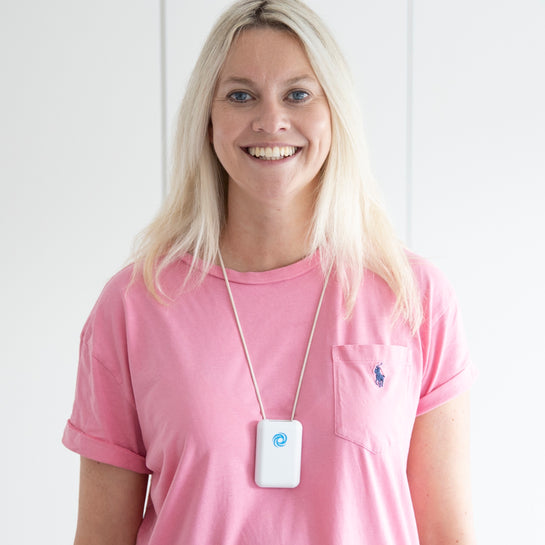 Specification
Technical Specification
Colour: White
Ion Density: 50 million ions per Cubic Metre
Ion Wind: Over 8.2 metres per minute
Power Usage: 0.2 watt
Full Charge Run Time: 28 hours
Charge Time: 3 to 5 hours
Ozone Output: Less than .028 ppm, UL, FUJI, USC, Intertec
Attachments: Lanyard neck cord
Charging Cable: USB cord
Emitter: Solid platinum
Material: Stainless steel
Dimension: 5 x 7.6 x 1.5cm
Weight: 85 grams
This super efficient ioniser propels cleaner, fresher, healthier air into your breathing zone.
This rechargeable ioniser has 28 hours of run time per charge and captures the following contaminates:
Allergens
Dust
Bacteria
Viruses
Mould Spores
Chemicals
Cooking Oil Smoke
Cough & Sneeze Debris
Odours
Diesel Particles 

The Air Supply AS-300R is a must-have to breathe fresher cleaner air when you need it the most, especially for travel, cinemas, shopping, waiting rooms or any confined area. Helps remove allergens, germs, viruses, pollutants and contaminants in the air before you breathe them in.
Benefits
Ultra light, small, and wearable
Silent, fan-less, filterless, and maintenance free technology
Helps combat air pollutants and contaminants
Includes breakaway neckstrap for safety
Worn either round the neck or clipped to a shirt pocket


AirSupply® is ideal for pet allergy, asthma, hay fever and COPD and is highly recommended for sensitivity to perfumes, cleaning chemicals and VOC's, Sick Building Syndrome and to avoid problems that may result from breathing recirculated air in aircraft.
Uses corona discharge technology to create an electrostatic shield that repels, incinerates or oxidises airborne particulates before they can enter the mouth, nose and eyes. The corona discharge also sends a fresh ionic breeze of purified air into the breathing zone of the wearer.
AirSupply® has been tested and proven by world authorities in health-related aerosol studies* to substantially reduce the risk of inhaling airborne bacteria, viruses and toxic particles ranging from 3.0 to 0.04 microns in size.
This size range encompasses most known allergens and irritants such as dust, animal dander, mould spores, pollen and smoke, odours, chemical contaminants and infectious viruses and bacteria such as Influenza, the common cold, H1N1 (Swine Flu) and viruses in the coronavirus family including SARS, MERS and COVID-19.
How different airborne contaminants are destroyed by AirSupply®:
Dust and Dustmites: carbonised and vaporised by incineration
Mould spores and pollen: carbonised and vaporised by incineration
Animal dander: carbonised and vaporised by incineration
Virus and Bacterial Germs: incinerated by the corona discharge
Odours: oxidised into deodorised compounds
Chemical Contaminants: oxidised into benign chemicals
Smoke:solids are carbonised and gasses oxidised
NB. Customers with Pacemaker devices or Implanted Cardiac Defibrillators should check with their doctor before use.
|   | Small HEPA Filter | Ionic Competitor | Air Supply® Rechargeable |
| --- | --- | --- | --- |
| Removes Dust* | | | |
| Removes Mold Spores* | | | |
| Removes Pollen* | | | |
| Removes Smoke* | | | |
| Removes Viruses* | | | |
| Removes Bacteria* | | | |
| Removes Fumes* | | | |
| Removes Odor* | | | |
| Noisy carbon emitter | | | |
| Rechargeable | | | |
| Small and wearable | | | |
| 75 ft./min. air flow | | | |
| Scientifically calibrated | | | |
| Electrodynamically advanced | | | |
| 150 mW air cleansing power | | | |
| Pushes contaminants away | | | |
| Platinum emitter | | | |
| No Filters | | | |
| Fan-less | | | |
| Whisper Quiet | | | |
| Ultra Low Ozone | | | |
| 50 million ions/cc | | | |
| 4 US patents | | | |
| Zero maintenance | | | |
Specification
Technical Specification
Colour: White
Ion Density: 50 million ions per Cubic Metre
Ion Wind: Over 8.2 metres per minute
Power Usage: 0.2 watt
Full Charge Run Time: 28 hours
Charge Time: 3 to 5 hours
Ozone Output: Less than .028 ppm, UL, FUJI, USC, Intertec
Attachments: Lanyard neck cord
Charging Cable: USB cord
Emitter: Solid platinum
Material: Stainless steel
Dimension: 5 x 7.6 x 1.5cm
Weight: 85 grams