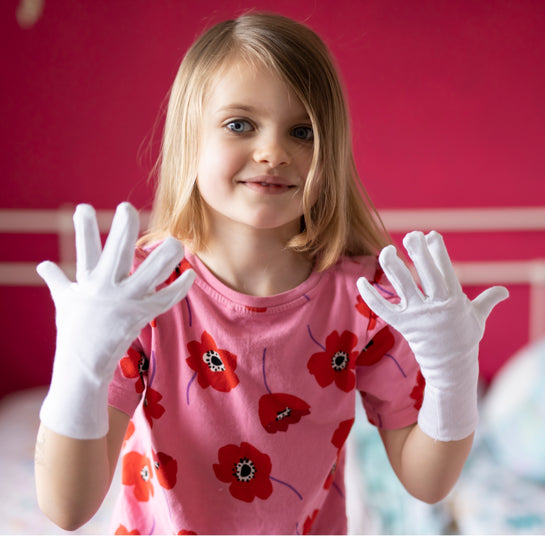 Specification
White Cotton Gloves for Eczema Sizing Information
| Allergy Best Buys Children's White Cotton Gloves Size Chart | |
| --- | --- |
| Children's White Cotton Gloves Size 2 | age 2-4yrs |
| Children's White Cotton Gloves Size 3 | age 5-7yrs |
| Children's White Cotton Gloves Size 5 | age 8-10yrs |
Glove sizes are measured in inches by passing a tape measure round the palm, excluding the thumb
"These white cotton gloves are the best for comfort and design that I've found for our patients. The little sizes for children are particularly useful."
Julie Carr, Dermatology Nurse, Sheffield Children's Trust
Our Children's White Cotton Gloves are Now Even Finer and Softer!
Our white cotton gloves for Children are ideal for eczema or irritant contact dermatitis.
100% soft white cotton gloves
fully fashioned gloves for the best fit for children
box effect inserts give kids extra comfort round sore fingers
gloves have extra long cuff with soft flat hem for added protection around wrists
boil wash at 90°C (200°F) to sterilise, line dry or cool tumble dry
Our bestselling soft and comfortable pure white cotton gloves allow your child to play safely with glue, paints or animals, protecting damaged skin on hands, wrists or fingers.
Specification
White Cotton Gloves for Eczema Sizing Information
| Allergy Best Buys Children's White Cotton Gloves Size Chart | |
| --- | --- |
| Children's White Cotton Gloves Size 2 | age 2-4yrs |
| Children's White Cotton Gloves Size 3 | age 5-7yrs |
| Children's White Cotton Gloves Size 5 | age 8-10yrs |
Glove sizes are measured in inches by passing a tape measure round the palm, excluding the thumb