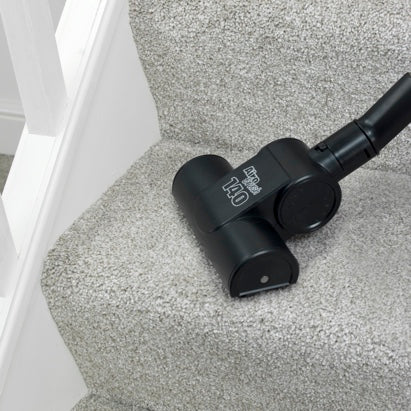 Specification
Kit Comprises
6 metre hose
140 mm turbo brush
It worked for me!
"I have tried several hand-held vacuum cleaners to do the stairs but generally they have poor suction, no HEPA filtration and need to be re-charged. This Stair Kit is a game-changer and works well for cleaning the car too, using an upholstery nozzle or crevice tool attached to the long hose." Sam E. W14
Powerful suction for the stairs with this mini turbo brush and extra long hose
Now with 6 Metre Hose
If you find it a struggle hoovering the stairs with a full size vacuum cleaner or are unimpressed with the suction of a hand-held, here's a welcome solution.
Leaving your AllerVac in the hall or on the landing, simply attach the 6 metre (19ft 8in) Extension Hose, slot on the Mini Turbo Brush and you've got all the length you need to clean the stairs with the unbeatable suction and filtration of your Allervac H13, Microfilter or Medivac machine. Brilliant!
This 6 metre hose is designed to help make cleaning flights of stairs easy. It's also perfect for cleaning the tops of cupboards and picture rails in buildings with high ceilings.
It fits both AllerVac and Medivac machines and works with all floor tools. It's light but sturdy and coils for storage.
This fabulous, compact hose extends to a full 6 metres in use.
As an added bonus, its universal attachments mean it fits most makes and models of vacuum cleaner in addition to AllerVac & Medivac. Perfect for stairs or larger rooms. Much more compact for storage than a non-extending hose.
Kit contains:
Extendable 6 metre hose




32mm to 32mm adapter




32mm to 35mm adapter




32mm to 38mm adapter

30mm to 38mm vario-fit adapter



The vario-fit adapter attaches to the bent-end hose handle of your vacuum cleaner using the vario-fitting screw end. The plain end connects to the extendable hose. The other end of then flexible hose connects to your vacuum tools using one of the remaining adapters according to its system size.
Specification
Kit Comprises
6 metre hose
140 mm turbo brush