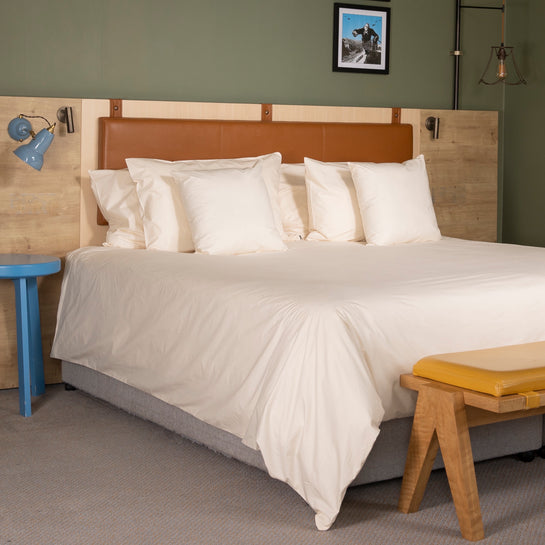 Specification
| | | | | |
| --- | --- | --- | --- | --- |
| | Single | Double | King | Super King |
| UK Sizes | 135x200cm | 200x200cm | 225x220cm | 260x220cm |
If you are buying this product for personal use to treat a medical condition you are entitled to claim exemption from VAT
"The first and most important step to reduce dust mites is to cover mattresses and pillows in zippered dust-proof covers." The Asthma & Allergy Foundation of America (AAFA)
Made with pure organic cotton that's supremely comfortable, Cottonfresh® anti-allergy bedding covers are our customers' favourite choice for dust mite protection.
For those who love a natural cotton feel, a Cottonfresh® barrier cover for your duvet is the perfect choice, offering the comfort of all-natural Cottonfresh® fabric and the security of protection from dust mite, pet and pollen allergens.
Simply zip one of these these covers round your duvet like an inner liner and then use your regular duvet cover over the top.
The covers completely encase the duvet to ensure complete protection from house dust mites and other harmful allergens. Even the zips are dust mite proof.
These pure organic, unbleached, undyed cotton barrier covers are beautifully made and woven so tightly that dust mites and airborne allergens cannot  get through. They are our top-of-the range barrier covers, cool and supremely comfortable to sleep on.
dust mite and allergen proof without plastic backing
highly recommended for asthma, eczema, dust mite allergies and multiple chemical sensitivity
tightly woven 100% pure organic cotton, undyed, unbleached, chemical free
GOTS-certified (Global Organic Textile assessed and certified)
naturally cool, quiet & exceptionally comfortable

Oeko-Tex®

certified free of harmful substances
totally encloses your mattress - fine dust mite-proof zip fastener
hot wash up to 60°C to keep hypoallergenic or at 90°C to sterilise
tested for particle hold-out, BTTG Laboratories, Manchester UK
tested for dust mite hold-out, the Medical Entomology Department at the University of Cambridge, UK
tested for dust mite and cat allergen hold-out, PMI laboratories, New York
Protect against bed bugs as well as dust mites!

available VAT-free for asthma, eczema and allergies



Buying Pillow and Mattress Barrier covers will give you the greatest defence against dust mites.
 Save money when you buy Cottonfresh dust mite proof barrier cover sets
Colour: soft natural, unbleached, undyed.
Cottonfresh organic covers are a little oversized to allow for natural shrinkage, ensuring they continue to fit your bedding for years to come. Always remember to close zips when laundering and take care when putting onto bedding.
Specification
| | | | | |
| --- | --- | --- | --- | --- |
| | Single | Double | King | Super King |
| UK Sizes | 135x200cm | 200x200cm | 225x220cm | 260x220cm |
If you are buying this product for personal use to treat a medical condition you are entitled to claim exemption from VAT