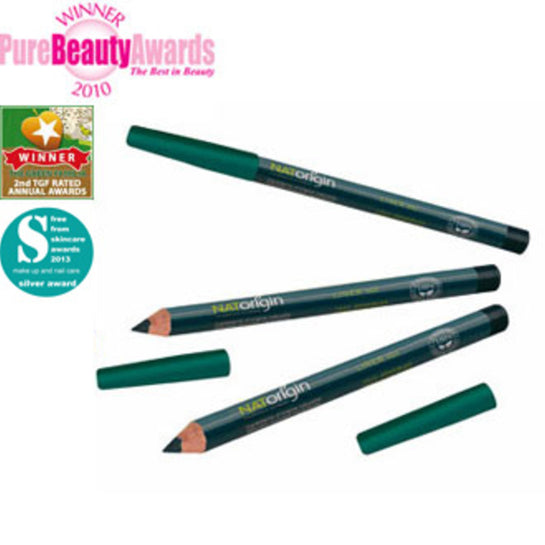 Specification
NATorigin Eyeliner is free from:
Alcohol, Animal ingredients, Benzoate, Carmine, Chrome, Colophonium, Dairy products, DEA (Diethanolamine), Essential oils, Formol/Formaldehyde, Lanolin, Latex, Lead/Lead oxide, MEA, Mercury, Methylchloroisothiazolinone, Methylisothiazolinone, Mineral oil, Nickel, Parabens, Peanuts or their oils PEG (polyethylene glycol), Petrochemicals, Phenoxyethanol, Phthalates, Salycilate, Silicones, SLES (sodium lauryl sulphate), SLS (sodium laurel sulphate), Soap, TEA (Triethanolamine), Wheat/gluten
Eyeliner That's Recommended for Even the Most Sensitive Eyes. And it's Approved by Allergy UK 
The NATorigin Eyeliner Pencil is a fantastically soft, dark pencil especially formulated for sensitive eyes, and is great for contact lens wearers, hayfever sufferers and those allergic to eye make-up.
Many cosmetics companies offer "natural" or "organic" ranges these days, but just because it says natural or even organic on the label doesn't mean you won't be allergic to what's in it.
The French company behind the NATorigin Eyeliner Pencil has used natural ingredients including beeswax, oily extract of arctic raspberry seeds and shea butter to create a wonderfully soft pencil with soothing, healing and anti-inflammatory properties. The ingredients have also been specifically formulated for sensitive skin and eyes according to the principles of bio-inertia to reduce the risk of intolerance.
They have also eliminated allergenic ingredients often used in other natural/organic products such as alcohol and essential oils so as to ensure extreme tolerance.
The result is an award-winning eye pencil that is a pleasure to use for anyone with sensitive eyes or eye make-up allergy and for contact lens wearers. It is the only Eyeliner to have been granted the approval of the British Allergy Foundation.
No phenoxyethanol, no phthalates , no mineral oils, no formol, no silicone, no chrome, no SLS or lanolin.
Not tested on animals. Suitable for vegetarians.
Specification
NATorigin Eyeliner is free from:
Alcohol, Animal ingredients, Benzoate, Carmine, Chrome, Colophonium, Dairy products, DEA (Diethanolamine), Essential oils, Formol/Formaldehyde, Lanolin, Latex, Lead/Lead oxide, MEA, Mercury, Methylchloroisothiazolinone, Methylisothiazolinone, Mineral oil, Nickel, Parabens, Peanuts or their oils PEG (polyethylene glycol), Petrochemicals, Phenoxyethanol, Phthalates, Salycilate, Silicones, SLES (sodium lauryl sulphate), SLS (sodium laurel sulphate), Soap, TEA (Triethanolamine), Wheat/gluten