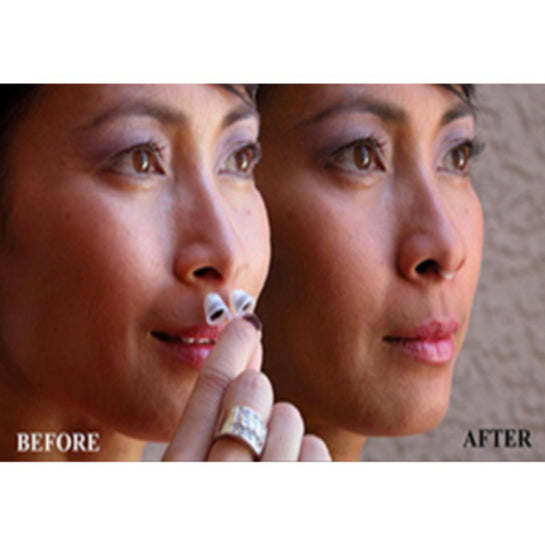 Specification
Nasal AirGuard
Check the size to find the best fit for your nostrils.
| Size | Dimensions |
| --- | --- |
| S | 11mm x10mm |
| M | 13mm x11 |
| L | 14mmx13mm |
Discreet Nose Filters to Combat Pollen, Pollution, Pet Allergen, Dust and Fumes.
A favourite with Cyclists, City joggers, Painters, Artists, Potters, Animal groomers, Decorators, DIY-ers, Spray Tanning and Nail salons and when mowing the lawn.
This ingenious nasal filter device fits into each nostril and is almost undetectable in use. Ideal when wearing a mask is not appropriate.
Its unique dual filter system uses cellulose fibre to trap particulates and granular activated carbon to absorb gaseous pollutants, so all you breathe in is fresh air.
pollen and grasses, mould spores, dust & dustmite allergen, pet dander
asbestos, fibreglass dust, harmful combustion particles
exhaust fumes, smog, chemical vapours, perfume and detergent odours, dangerous VOCs
People with asthma or hay fever have airways that are almost always inflamed and they can react badly when in contact with allergens. The special patented filters in the Nasal AirGuard act as a barrier, defending the airways from assault and preventing allergic reactions from inhalation.
Wearing a Nasal AirGuard takes a little getting used to - it's a bit like wearing contact lenses - and you may find your nose runs a little to begin with (that's a good sign, it's the sinuses cleaning themselves out). Simply remove the Nasal AirGuard and wipe clean, blow your nose and reinsert. After a short time your runny nose will stop.
Each Nasal AirGuard works for up to 5 days. Simply clean the nasal filters between uses with an alcohol wipe or quick rinse under cold running water.
acts immediately to bring instant relief
no drugs, no drowsiness, no side effects
soft skin tone medical grade plastic (not latex)
Pack of 6 or 18 filters in 3 sizes: S (11mm x10mm), M (13mm x11), L (14mmx13mm) plus Trial pack (1 of each size)
Buy in packs of 18 - SAVE £3.90!
Specification
Nasal AirGuard
Check the size to find the best fit for your nostrils.
| Size | Dimensions |
| --- | --- |
| S | 11mm x10mm |
| M | 13mm x11 |
| L | 14mmx13mm |