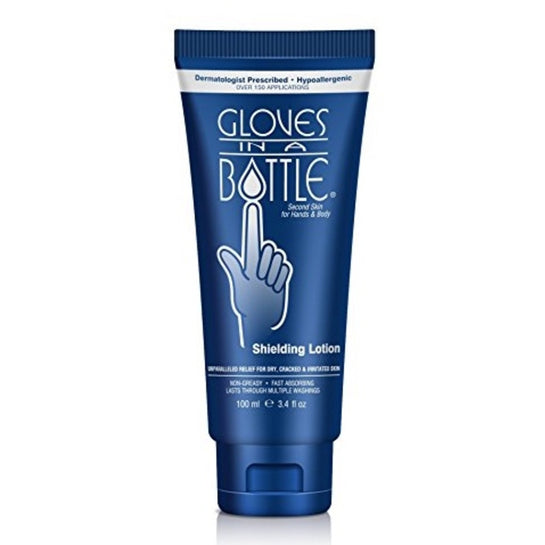 Specification
Ingredients
Purified Water (Aqua), Dimethicone, Stearic Acid, Glycerin, Cetyl Alcohol, Isopropyl Myristate, Stearyl Alcohol, Triethanolamine, Xantham Gum, Hydroxypropyl Methylcellulose, VP-Eicosene Copolymer, Steareth-21, Phenoxyethanol (Preservative.)
For external use only.
"I purchased Gloves in a Bottle because I was looking for a product that would reduce the symptoms of contact dermatitis from irritants such as soap or powder from washing your hands and latex glove wear. I have not found a product that works as well as Gloves in a Bottle. I want to give my unreserved endorsement of your product." Richard Dunn, Dentist
"I used to suffer from eczema on my hands which was clearly gardening related but I could never work out what caused it. It used to start in the summer and be so bad the itching would keep me awake. The best treatment I found was Gloves in a Bottle - a sort of barrier cream that actually bonds to your skin and allows it to heal." Diane Clement
Gloves in a Bottle - A Lotion that Makes an Invisible Pair of Gloves for Your Hands
Dry cracked hands? Sore fingers? Itchy rash? Irritated skin? Or do you just find that handling certain things, like tomatoes, makes your hands sting?
When you know you really should be wearing gloves but can't, try Gloves in a Bottle. This amazing barrier lotion acts like an invisible pair of gloves, keeping moisture in and irritants out, allowing your skin's barrier to repair itself.
Unlike artificial moisturisers, Gloves in a Bottle bonds with the outer layer of skin, turning it into a protective shield that works like an invisible pair of gloves, sealing out exposure to harmful irritants and allowing the skin's natural barrier to be restored.
One pea-sized drop of Gloves in a Bottle is all you need for protection that last for four hours and doesn't wash off but comes off naturally with exfoliated skin cells. Reapply every four hours for continued protection or just when you know that you'll need it.
Gloves in a Bottle has been shown in independent laboratory tests to protect against skin and systemic reactions to doses of chemical irritant in excess of those likely to be experienced in the household or workplace.
It's ideal for those whose hands are constantly in water or exposed to harsh chemicals or irritants in the workplace. Gloves in a Bottle is the number one shielding lotion of choice for nurses, hairdressers, mechanics, gardeners, decorators, chefs, cashiers and people whose hands are often plagued by chronic hand eczema or irritant contact dermatitis.
non-greasy, non-sticky, rapidly absorbed
creates a protective layer while retaining natural moisture from within
virtually undetectable once dry
doesn't wash off, comes off naturally with exfoliated skin cells
fragrance-free, lanolin-free, hypoallergenic
completely safe and non-toxic
laboratory tested
used and recommended by healthcare professionals
prevents sensitivity to latex gloves
protects against exposure to nickel and chlorine
effective on feet and elbows too
3 useful sizes:
100ml tube is good value, and the maximum size you can take in your hand baggage when you fly

240ml bottle with optional pump dispenser gives approx 120 applications

455ml bottle with integral pump, our newest addition to the range
Tester's Tip: When using on your hands flex your knuckles as you apply so Gloves in a Bottle gets into all the creases on the back of your hands.



Specification
Ingredients
Purified Water (Aqua), Dimethicone, Stearic Acid, Glycerin, Cetyl Alcohol, Isopropyl Myristate, Stearyl Alcohol, Triethanolamine, Xantham Gum, Hydroxypropyl Methylcellulose, VP-Eicosene Copolymer, Steareth-21, Phenoxyethanol (Preservative.)
For external use only.