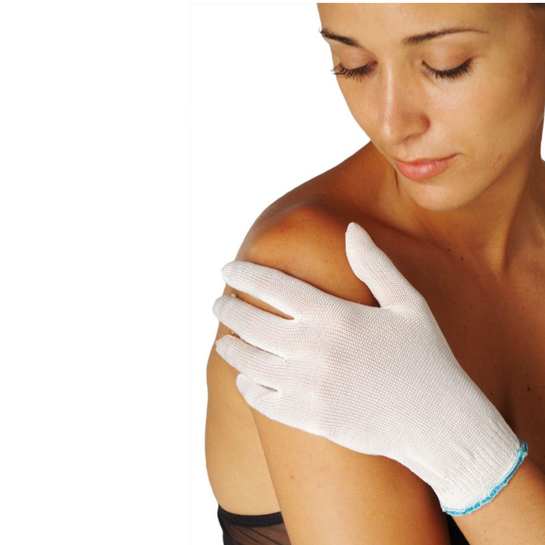 Specification
How to get a perfect fit for your Dermasilk Gloves
Measure the length of your middle finger.
| Gloves | Middle Finger Length |
| --- | --- |
| Adult S | 6 cm |
| Adult M | 7 cm |
| Adult L | 8 cm |
| Adult XL | 9 cm |
Customer Zoe B's experience of using DermaSilk Therapeutic Gloves is so encouraging that we reproduce it here:
" I have eczema which flares up on my hands mostly. I also have Elhers-Danlos Syndrome which mostly affects my joints and to a lesser degree affects my skin.
I get something called fisheye cuts on my hands, which basically means the skin is quite thin and tears easily. For example, if my hands are a bit dry and I bend my fingers to pick something up, my skin tears on my fingers in the creases where the fingers bend and on the other parts of the fingers. My fingers then swell and the skin contracts and the splits in my skin travel to become longer and deeper. They also sting quite badly after I have washed them and moisturising them only seems to aggravate them further.
I put the DermaSilk gloves on one night when my hands were really itchy; my cream seemed to be making them worse and it was driving me crazy !
Within a few minutes the itching stopped. I was pretty amazed. I am a real sceptic when it comes to these things, so if it works on me you can be pretty sure it works !! When my hands start itching I get a bit irritable which makes them more itchy and this can go on all night ! I couldn't believe how well the gloves worked and how quickly they helped.
Putting the gloves on stops the itching within a matter of seconds. They also relieve the stinging and actually make the skin feel less tight. The overall sore feeling goes and I can relax and carry on as normal – fantastic ! "
Comfortable, healing and effective
Class 1 Medical Device
helps heal hand eczema and dermatitis
as effective as corticosteroids in clinical trials
lightweight, cool and comfortable
reduces itching and scratching
calms and soothes irritated skin
can be used with other treatments
recommended by dermatologists, allergy specialists and nursing staff
98% pure silk, 2% Lycra with Microbe Shield™
hand wash, dry flat
DermaSilk® Therapeutic Gloves are knitted from undyed medical grade pure silk bonded with an antimicrobial "shield" that has been used in hospitals for over 20 years on medical gowns and textiles for infection control. This Microbe Shield™ inhibits the growth of fungus and bacteria without releasing chemicals onto the skin and remains bonded to the silk even when washed.
The result is a gentle stretchy glove with a comfortable fit that promotes the healing of hand eczema or dermatitis.
If you would like fingerless gloves take a look at our Dermasilk Therapeutic Fingerless Gloves for Adults
Clinical trials: Antimicrobial Silk Clothing in the Treatment of Atopic Dermatitis Proves Comparable to Topical Corticosteroid Treatment. From Zurich University Hospital. Published in Dermatology September 2006. Issue 213 pp 228-233
Specification
How to get a perfect fit for your Dermasilk Gloves
Measure the length of your middle finger.
| Gloves | Middle Finger Length |
| --- | --- |
| Adult S | 6 cm |
| Adult M | 7 cm |
| Adult L | 8 cm |
| Adult XL | 9 cm |