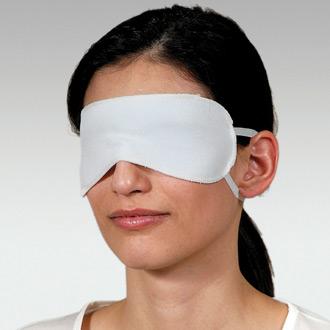 Listed Number 1 in The Mail on Sunday "5 of the best Sleep Masks"
Recommended for the treatment of eyelid eczema
Find Out How to
Buy VAT Free
'The DermaSilk® Eye Mask helps with the treatment of the delicate areas of skin around the eyes and eyelids
Class 1 Medical Device
lightweight, cool and comfortable
Microbe Shield™ controls the spread of bacteria and fungi
promotes healing
proven effective as corticosteroids in published clinical trials

calms and soothes
98% pure silk, 2% Lycra with Microbe Shield™
hand wash, dry flat
available VAT free
Eczema or allergy around the eye region is often difficult to treat and the DermaSilk Eye Mask is the first therapeutic device specifically designed to help in this area. It uses a lightweight fabric knitted from undyed medical grade pure silk bonded with Microbe Shield™ an antimicrobial that has been used in hospitals for over 20 years to promote healing. Microbe Shield™ inhibits bacterial and fungal growth without releasing chemicals onto the skin and remains effective after repeated washes.
The Eye Mask is made up of three comfortable layers with the DermaSilk sandwiching a breathable middle layer, creating the best environment for the skin around the eyes.
DermaSilk is supported by published clinical trials and recommended by Dermatologists, Allergy Specialists & Nursing Professionals
One size.