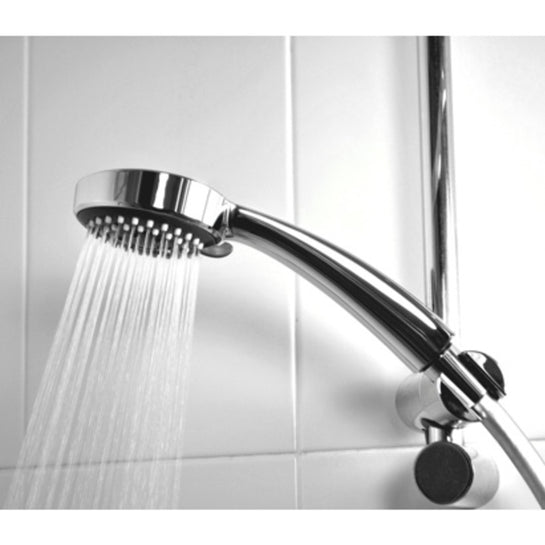 Specification
SuperWater™ Dechlorinating, Hydrogenating Shower Head Filter
Technical Specification:
Construction: chrome plastic finish
Dimensions: D31mm W84mm H225mm
Product life: Up to 9 months between refills
The lifetime of the filter medium in this product will vary according to local water quality and frequency of shower usage. It will last up to 9 months.You can easily replace the filter medium with a refill pack. (NB. Colour of filter medium may vary due to market availability.)
Excellent for chlorine-sensitive skin, eczema, psoriasis. asthma and chemical sensitivity.
New improved model hydrogenates the water
Simply unscrew your old shower head and screw on a new Dechlorinating, Hydrogenating Shower Head. With its stylishly large 7.5cm spray face, the new Dechlorinating, Hydrogenating Shower Head will update your bathroom and improve your showering experience at a stroke. Choose Rainfall, Massage or Rain/Massage spray pattern to suit your mood and you'll think you're showering in a 5-star hotel!
But that's not all. The unique Ceramet® ceramic filter medium in the refillable head removes up to 99% of chlorine and irritant vapours from your shower water and will reduce water soluble trace metals too.
So your skin or scalp could benefit if chlorine, chemicals and heavy metals in the water cause dryness or irritation.
Ceramet® also kills bacteria such as E Coli and Staphylococcus which cause eczema flare ups.
natural Ceramet™ ceramic granules remove 99% of chlorine
Ceramet™ also removes chloramines, fluoride, THMs, PCBs, arsenic, barium, cadmium, chromium, selenium, mercury, iron, heavy metals and impurities
re-balances pH, creates scale-reduced water that makes skin and hair feel great
produces hydrogenated, antioxidant-enriched water
relief from chlorine for dry skin and eczema
relief from chlorine fumes for asthma and chemical intolerance
works in water that's hot or cold, hard or soft
effective for up to 9 months between refills
easy-clean spray nodes and scale resistant finish
fits all standard shower hose connections and most showers, including electric, bath mixer showers and power showers, without tools (see below* for exceptions)
an ideal travel filter, compact enough to fit in your luggage, protects against over-chlorinated and partly treated water
This shower head is fully latex-free, constructed from ABS plastic with a chrome plate. The rubberised spray nozzles are made from EPDM (ethylene propylene diene monomer).

Tester's Tip: You'll find colour-treated hair retains its tint for longer when you shower in Ceramet-filtered water.
*As long as your water supply has reasonable shower pressure, the shower head will work properly. Some gravity fed systems may have water pressure that is too low. Please check before purchase.
Specification
SuperWater™ Dechlorinating, Hydrogenating Shower Head Filter
Technical Specification:
Construction: chrome plastic finish
Dimensions: D31mm W84mm H225mm
Product life: Up to 9 months between refills
The lifetime of the filter medium in this product will vary according to local water quality and frequency of shower usage. It will last up to 9 months.You can easily replace the filter medium with a refill pack. (NB. Colour of filter medium may vary due to market availability.)