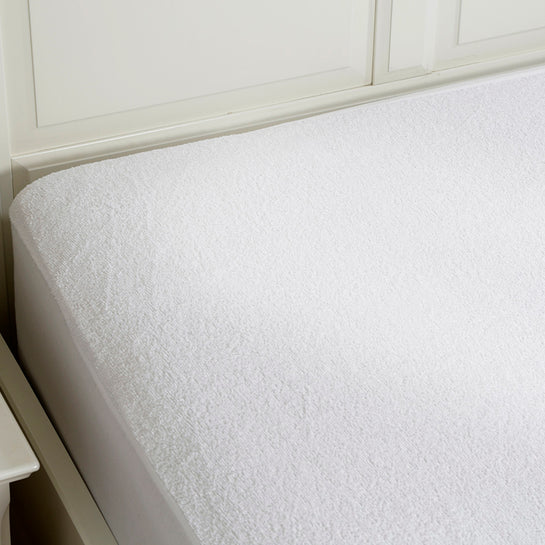 Specification
Waterproof Allergen Barrier Cover for Mattress
Can be washed at 95˚C. Washing at lower temperatures will prolong the life of your product.
Short spin only
Drip dry or tumble dry on low heat, max. 70˚C
Towelling: 100% Cotton Pile
Composition including backing yarn: 80% cotton 20% polyester
Underside: 100% polyurethane
Stretch Skirt: 100% polyester
Size
Dimensions
Cotbed Dustmite Proof Barrier Cover
70x140x10cm
Single Dustmite Proof Barrier Cover
90x190x27cm
Double Dustmite Proof Barrier Cover
140x190x27cm
KingDustmite Proof Barrier Cover
150x200x27cm
Super King Dustmite Proof Barrier Cover
171x200x27cm
Waterproof mattress protector that protects against spills and stains, dustmites, mould and bacteria.
This waterproof mattress protector simply slips over the mattress and is held in place by a stretch skirt. Cool, quiet and comfortable, our waterproof allergen barrier covers provide you with the ultimate protective bedding. They're the ones to choose if you're looking for waterproof protection for your mattress and a barrier to dustmites, pet allergen, mould and bacteria.
Made from award-winning soft, absorbent, 100% pure terry cotton pile surface on a polyester base backed with breathable polyurethane (not PVC) that allows heat and vapour to pass through. So you stay cool and comfortable and safe from allergens whilst your mattress is protected against stains and spills.
ideal for cots, children's beds and the elderly
Oeko-tex certified in the category 'Safe for Babies' - contains no antimony, cadmium or zinc
protects against dustmite and pet allergen, mould and bacteria
protects against stains and spills
tested for particle hold-out at BTTG Laboratories, Manchester
elasticated sides make changing easy
great when travelling
When soiled you can boil-wash these amazing mattress covers at 95˚C or sterilise them at up to 121˚C
Otherwise, wash at 60˚C to destroy allergens or add a capful of FabricCleanse anti-dustmite laundry additive and wash at 40˚C.
Specification
Waterproof Allergen Barrier Cover for Mattress
Can be washed at 95˚C. Washing at lower temperatures will prolong the life of your product.
Short spin only
Drip dry or tumble dry on low heat, max. 70˚C
Towelling: 100% Cotton Pile
Composition including backing yarn: 80% cotton 20% polyester
Underside: 100% polyurethane
Stretch Skirt: 100% polyester
Size
Dimensions
Cotbed Dustmite Proof Barrier Cover
70x140x10cm
Single Dustmite Proof Barrier Cover
90x190x27cm
Double Dustmite Proof Barrier Cover
140x190x27cm
KingDustmite Proof Barrier Cover
150x200x27cm
Super King Dustmite Proof Barrier Cover
171x200x27cm