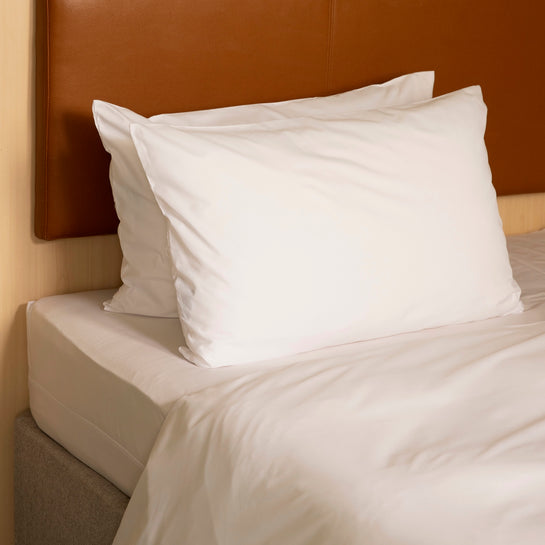 Specification
| Size | Dimensions |
| --- | --- |
| Single Mattress Cover | 92 x 191 x 20cm |
| Deeper Single Mattress Cover | 92 x 191 x 26cm |
| Double Mattress Cover | 138 x 191 x 20cm |
| Deeper Double Mattress Cover | 138 x 191 x 26cm |
| King Mattress Cover | 153 x 200 x 20cm |
| Deeper King Mattress Cover | 153 x 200 x 26cm |
Our Superb Value Range - Choose 20cm or 26cm depth mattress covers!

When price is as important as protection, the Classic range of barrier covers from allergy bedding specialists, The Sounder Sleep Company, offer comfort, effectiveness and affordability. But do not compare these barrier covers to the cheap plasticky covers on the market today. These are the best synthetic covers you can buy with a soft feel and superb breathability.

Encasing your mattress with an effective dust mite proof cover, along with your pillows and duvet, provides essential protection against dust mite allergen, and other microscopic allergens too.
soft, light, tightly woven microfibre seals out all allergens, including cat and dust mite allergen, from your mattress.
lets air and vapour through for breathability and comfortable sleep
allergen-proof zips totally enclose the mattress for complete protection
tested for allergen hold-out by PMI laboratories, NY
tested and CE-approved TUV-certificated, no harmful chemicals
wash at 60°C, quick drying, non-iron
excellent value
10 year guarantee
available VAT free
Protect against bed bugs as well as dust mites!
Cover your Pillows and Duvet too for complete bedtime protection from dust mites and allergens, and save money with complete sets.

Specification
| Size | Dimensions |
| --- | --- |
| Single Mattress Cover | 92 x 191 x 20cm |
| Deeper Single Mattress Cover | 92 x 191 x 26cm |
| Double Mattress Cover | 138 x 191 x 20cm |
| Deeper Double Mattress Cover | 138 x 191 x 26cm |
| King Mattress Cover | 153 x 200 x 20cm |
| Deeper King Mattress Cover | 153 x 200 x 26cm |