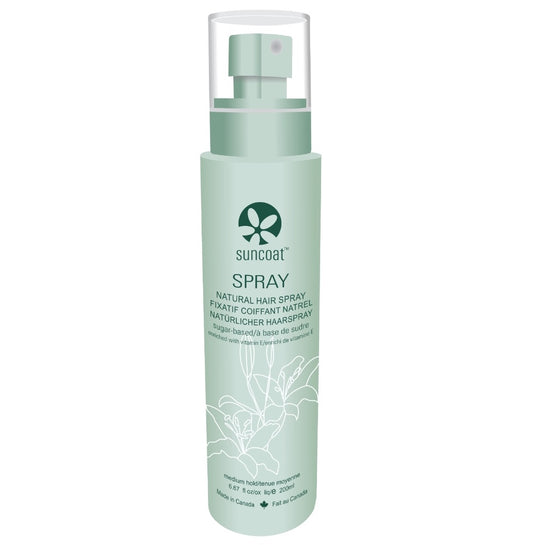 Specification
For styling and body, lift and spray into hair roots. For hold , spray 10-30cms away on dry hair to hold your style. Can be used on damp hair. Brushes out easily without leaving any residue. 200ml
Contains: Aqua (water), hydrolyzed Zea mays (corn) starch, citric acid, tocopherol (vitamin E), Citrus grandis (grapefruit ) seed extract, vegetable glycerin, potassium sorbate
"Absolutely brilliant product - my hair was breaking before I found it . Now my hair's thickening-up. Wonderful stuff."
Mrs Coate. Wellington, Somerset
"I had given up using hairspray until I found this. I love this, it's not full of yucky stuff like every other brand I've seen"
Bucky, Seattle.
" I am allergic to any form of alcohol and this is the only product I can use on my hair. It has eliminated the rash I used to get. I'm extremely happy."
Joy
Our fresh batch of hairspray is new in from Canada! Never spray your hair with synthetic resins and alcohol again
The only hairspray that is truly free of petroleum-based chemicals, fragrance, alcohol and parabens. A great product for anyone sensitive to synthetic chemicals.
Holding power is achieved with natural biopolymers derived from renewable resources like corn and vegetables, enriched with Vitamin E.
Suitable for sensitive and allergy prone scalps and anyone with fragrance or chemical sensitivities.
chemical free
alcohol free
fragrance free
no animal testing
vegan
environment and allergy friendly
MULTIBUY SAVINGS! Keep one in the bathroom, one in your bag, one with your sports kit

To prolong product life always replace cap after use and store away from direct heat or sunlight.

Ingredients: Aqua (water), hydrolyzed Zea maze (corn) starch (natural multi-sugar), citric acid, tocopherol (vitamin E), Citrus grandis (grapefruit ) seed extract, vegetable glycerin, potassium sorbate.

 

 

 



Specification
For styling and body, lift and spray into hair roots. For hold , spray 10-30cms away on dry hair to hold your style. Can be used on damp hair. Brushes out easily without leaving any residue. 200ml
Contains: Aqua (water), hydrolyzed Zea mays (corn) starch, citric acid, tocopherol (vitamin E), Citrus grandis (grapefruit ) seed extract, vegetable glycerin, potassium sorbate