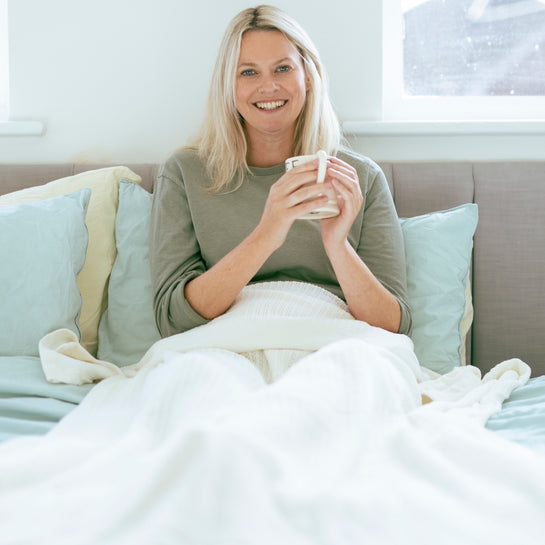 Specification
100% Cotton Cellular Blankets
Single: 180x230cm
Double: 239x239cm
King: 260x230cm
We recommend these cotton cellular blankets. Use them in layers.
Dr Richard Staughton, Consultant Dermatologist
Add layers of weight and warmth to regulate the bed temperature with these beautiful full size cotton blankets.
These Cotton Cellular Blankets work really well on top of a lightweight duvet, or you can add a couple over Dermatherapy sheets to keep bedclothes in place and the temperature where you want it.

Light and airy for the summer months and insulating for winter because of the all-natural cellular open weave. These blankets have a charming 'homespun' appearance.
Machine wash at 60° to kill dust mites and denature their allergen or wash at lower temperatures and add Fabricleanse to achieve the same result. Line or tumble dry. (NB. Manufacturer's label recommends washing at 40° but our testing and experience of using these traditionally woven blankets is that washing at 60° is not detrimental in any way to these traditional cotton blankets.)
Colours: White, Soft Natural, Blue
Buy in pairs and SAVE!
Specification
100% Cotton Cellular Blankets
Single: 180x230cm
Double: 239x239cm
King: 260x230cm