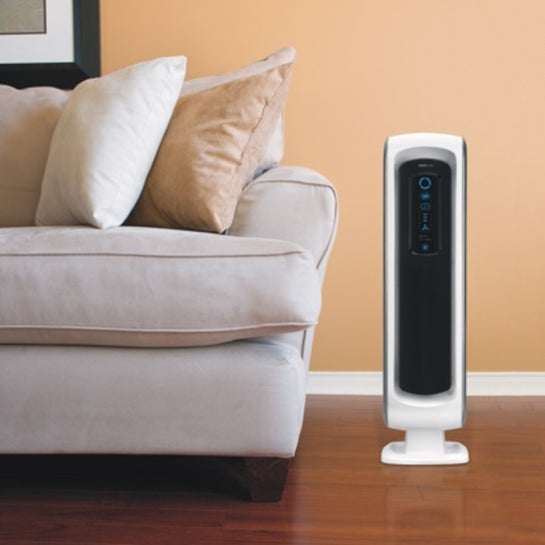 Specification
AeraMax™ DX5 Air Purifier
H x W x D (cm) 69.22 x 18.42 x 21.59
CADR Rating - Dust 51
CADR Rating - Pollen 58
CADR Rating - Smoke 55
Colour: white
Express service not available for this product
Excellent 4-stage purification at an excellent price.

Recommended for rooms up to 8m², the AeraMax DX5 Air Purifier with 4-stage cleaning process removes 99.7% of airborne pollutants as small as 0.3 microns including pollen and other allergens, dust mites, mould spores, pet dander and cigarette smoke. Organic odours from cooking, pets and household cleaning products are also removed leaving your home smelling fresh and clean.
Like its bigger brothers the DX55 and DX95, the DX5 boasts 4-stage technology with a True HEPA filter, a carbon filter and PlasmaTrue ionisation. It's easy to operate via a user-friendly display panel. Filter change indicators let you know when it is time to replace your Carbon and True HEPA filters.
PlasmaTrue™ Technology - creates an ionized field to help to safely remove airborne pollutants
AeraSafe™ Antimicrobial Treatment on a True HEPA filter - gives built-in protection from the growth of odour-causing bacteria, mildew and fungi
AeraSmart™ Sensor - intelligent built-in monitor checks the air quality and automatically adjusts the fan speed to keep your air purified. Blue, amber and red lights indicate the purity of your air
Aera+™ Mode - a booster that increases air flow by 35%* to remove allergens from your air in peak allergy seasons
Allergy UK Seal of Approval
The ECARF (European Centre for Allergy Research Foundation) Seal of Quality
3 year Warranty
Express service not available for this product
Specification
AeraMax™ DX5 Air Purifier
H x W x D (cm) 69.22 x 18.42 x 21.59
CADR Rating - Dust 51
CADR Rating - Pollen 58
CADR Rating - Smoke 55
Colour: white
Express service not available for this product