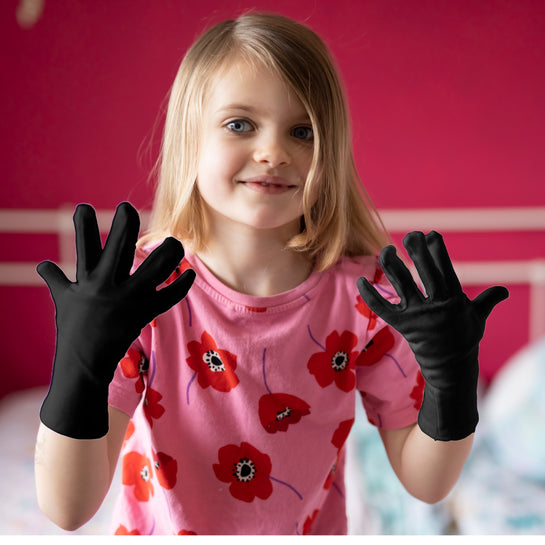 Specification
Cotton Gloves for Eczema Sizing Information
| Allergy Best Buys Children's Cotton Gloves Size Chart | |
| --- | --- |
| Children's Cotton Gloves Size 2 | age 2-4yrs |
| Children's Cotton Gloves Size 3 | age 5-7yrs |
| Children's Cotton Gloves Size 5 | age 8-10yrs |
Glove sizes are measured in inches by passing a tape measure round the palm, excluding the thumb
"These cotton gloves are the best for comfort and design that I've found for our patients. The little sizes for children are particularly useful."
Julie Carr, Dermatology Nurse, Sheffield Children's Trust
These black cotton gloves are made with 100% cotton fabric.
Save money buying in packs of three or six!



Now Even Finer and Softer

Our gloves are ideal for eczema or irritant contact dermatitis.
100% soft black cotton
fully fashioned gloves for best fit
box effect inserts give extra comfort around sore fingers
gloves have extra long cuff with soft flat hem for added protection around wrists
boil wash at 90°C (200°F) to sterilise, reshape when wet by moulding onto your hands. Line dry or cool tumble dry
Why our Cotton Gloves are the best you can buy
Our Gloves are unique. They are made especially for us to our own specification to satisfy the needs of children living with eczema. Here's what makes them special : -


The fingers of our gloves have a "box" construction. This gives them structure and allows room for the application of emollients in cases when the wearer is being treated for eczema.

There is space around the fingers to drastically reduce rubbing, while still maintaining dexterity and grip.

They have a very long cuff which covers the wrist and onto the forearm. This gives better protection than any other cotton gloves you can buy.

Our gloves are manufactured from high quality cotton and are wonderfully soft and light, making them extremely comfortable for children who have eczema or sensitive skin. 
Specification
Cotton Gloves for Eczema Sizing Information
| Allergy Best Buys Children's Cotton Gloves Size Chart | |
| --- | --- |
| Children's Cotton Gloves Size 2 | age 2-4yrs |
| Children's Cotton Gloves Size 3 | age 5-7yrs |
| Children's Cotton Gloves Size 5 | age 8-10yrs |
Glove sizes are measured in inches by passing a tape measure round the palm, excluding the thumb