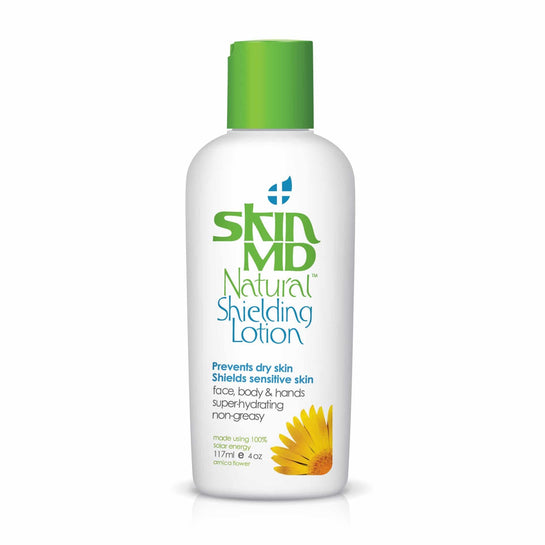 Specification
All Natural Formula: Aloe Vera, Vitamin E, Arnica, Comfrey, Yarrow, and Chamomile
Bottle Size: 4 oz. / 117 ml
"Skin MD has enabled me to wear makeup again, and generally feel more "human". I can honestly say it is the most effective product I have ever used on my skin, and I buy a new bottle about every 3 months. Again, I stress that nothing can CURE eczema, but this stuff definitely helps me to cope with it. I just wish it was available on prescription."
PC, Walsall
"Just 5 minutes after applying the Skin MD Natural lotion, I noticed a significant difference as the itchiness and redness were greatly reduced! Throughout the 8-week period since I've started using it, my skin condition has improved." - Ed Ang, Tips of All Sorts Blog
Skin MD -  a highly effective skin barrier with luxurious natural ingredients
Super hydrating
Non-greasy, quickly absorbed
Won't wash off
Skin MD shielding lotion creates a highly protective barrier for your skin. 
When correctly applied, clinical studies have shown that shielding lotions work on any part of the body - face, neck and ears, hands, arms, inner elbows, legs and feet. 
Simply apply a pea sized drop of Skin MD Shielding Lotion to clean, dry skin. Skin MD bonds with the outer layer of your skin, creating an invisible barrier to harsh chemicals or contaminants that rob the skin of its moisture. 
This effective barrier or shield lasts for about four hours and, unlike ordinary hand lotions or moisturisers, won't wash off.  Skin MD comes off naturally as your skin cells shed naturally and can be reapplied as needed.
Tester's Tip: A big plus for anyone who has to wash their hands frequently is that you can apply sanitising gels over Skin MD without affecting its shielding performance. 
Specification
All Natural Formula: Aloe Vera, Vitamin E, Arnica, Comfrey, Yarrow, and Chamomile
Bottle Size: 4 oz. / 117 ml