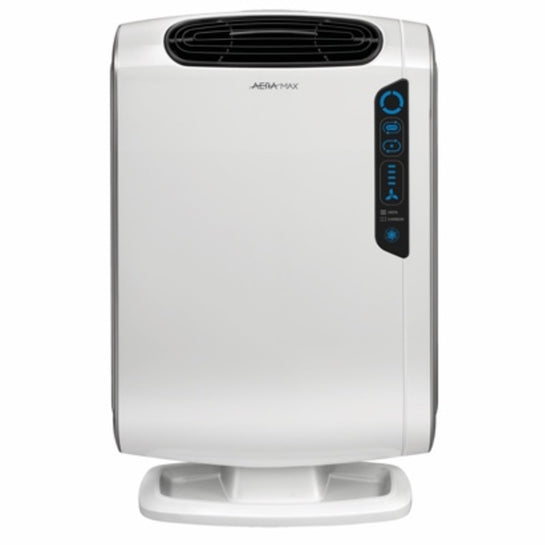 Specification
AERAMAX DX55
H x W x D (cm) 52.07 x 33.02 x 18.10
colour: White
Plastic housing
Room Size (m²) 18
CADR Rating – Smoke 126
CADR Rating – Dust 129
CADR Rating – Pollen 124
PlasmaTRUE™ Technology
Filter Type: Carbon, True HEPA with AeraSafe
Certification Allergy UK, AHAM Certified, Energy Star Certified, ECARF
3 yr limited warranty
Express service not available for this product
"Air is fresher and my allergies and my son's allergies seem to have disappeared while we are at home...I could no longer live without an Air Purifier as I do not want to go back to daily suffering." Marie, Kent
4-stage Purification filters the air 3 times an hour for maximum protection in rooms up to 18m²/194sq ft
True HEPA filter quietly removes 99.97% of airborne particles.

AeraSafe™ antimicrobial treatment of the True HEPA filter gives protection from the growth of odour- causing bacteria, mildew and fungi. So the air leaving your AeraMax is as pure and healthy as possible.
An activated carbon filter removes odours from cooking, pets and household cleaning products for a fresher home.
PlasmaTRUE™ Technology safely reduces airborne particles at the molecular level, instantly neutralising germs and viruses in the air by creating an ionized field, attracting positively charged airborne particles and making them more easily trapped by the purifier.
An AeraSmart™ Sensor monitors the air quality and automatically adjusts the fan speed to keep your air purified. Blue, amber, and red lights show the purity of your air.
An Aera+™ Mode setting, designed for peak allergy and cold/flu seasons, increases air turnover rate by 35% to remove even more allergens from your indoor air.
Filter Change Indicators let you know when it is time to replace your Carbon and True HEPA filters.
On high setting the AeraMax DX55 will filter the air 3 times an hour in a room up to 18m².
The AeraMax™ DX55 Air Purifier has been tested and certified to ensure its effectiveness and safety.
Allergy UK Seal of Approval for the reduction of exposure to pollen, mould, house dust mite, smoke, cat and dog allergens.
ECARF - European Centre for Allergy Research Foundation Seal of Quality.
AHAM Certified with 3 Clean Air Delivery Rate (CADR) numbers - for smoke, dust and pollen.
3 year warranty
AeraMax™ air purifier technology has been especially developed by Fellowes to effectively purify your indoor air and protect your family from harmful allergens and pollutants. Just switch it on and leave it to automatically clean your air – 24 hours a day.
See the AeraMax™ DX55 in action in the video below:
NB. This valuable item is sent on a secure, tracked service. To ensure efficient delivery, please provide your phone number when placing your order. We promise never to use your phone number for any other purpose than information and queries in relation to delivery.
Specification
AERAMAX DX55
H x W x D (cm) 52.07 x 33.02 x 18.10
colour: White
Plastic housing
Room Size (m²) 18
CADR Rating – Smoke 126
CADR Rating – Dust 129
CADR Rating – Pollen 124
PlasmaTRUE™ Technology
Filter Type: Carbon, True HEPA with AeraSafe
Certification Allergy UK, AHAM Certified, Energy Star Certified, ECARF
3 yr limited warranty
Express service not available for this product